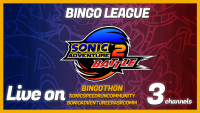 We are very happy to announce that Bingothon will be collaborating with the Sonic Adventure 2 Speedrunning Community to host the first season of the Sonic Adventure 2 Bingo League, pitting 10 teams each 2 players as they compete for their boards! The event will start in February, and will be featured on the Bingothon Twitch channel as well as the SonicSpeedrunCommunity and the SonicAdventureEraSRComm Twitch channel, so definitely be sure to follow both in order to enjoy this event at its fullest!
Also, Bingothon is looking for restreamers to help out with the event, as well as future ones! With the event starting in February, definitely do be quick to sign up! You may find the link to the application form here – we definitely hope to see you soon in the Bingothon family!
All information regarding the league, including standings, match schedule and more, can be found at our new website sa2.bingothon.com
We'd love to see you all in chat for the Sonic Adventure 2 Bingo League!